Application Segment Overview
Application Segment Overview

In the Application segment, you provide information on vehicle fitments. Applications can be configured on multiple levels.
Applications are defined in the following order :

Year Make Model




Sub configurations (Engine, Transmission, Bed Length, etc.)

Qualifier (ID-based)




Notes (free text)




Important:

Any application explicitly included will implicitly exclude all others. For example; if a product has an application of "2005 Ford Mustang GT" models, the selection of the sub-model "GT" excludes all other sub-models. If a product has applications in ALL sub-models, then NO selection is necessary.

Accessing the Application Segment

Select a Brand and click All Products.

Select the Application segment.


Select a product from the catalog.



Configured applications are displayed as a grid based on the selection.




General Infomation

Search box for

configured applications.




Add New Application

button.

More actions

dropdown menu:




Link application

inherit/link application data among your products.




Default Values

add default values to your product application.



Universal product

This is used to make the product universal.

List View and Tile View buttons.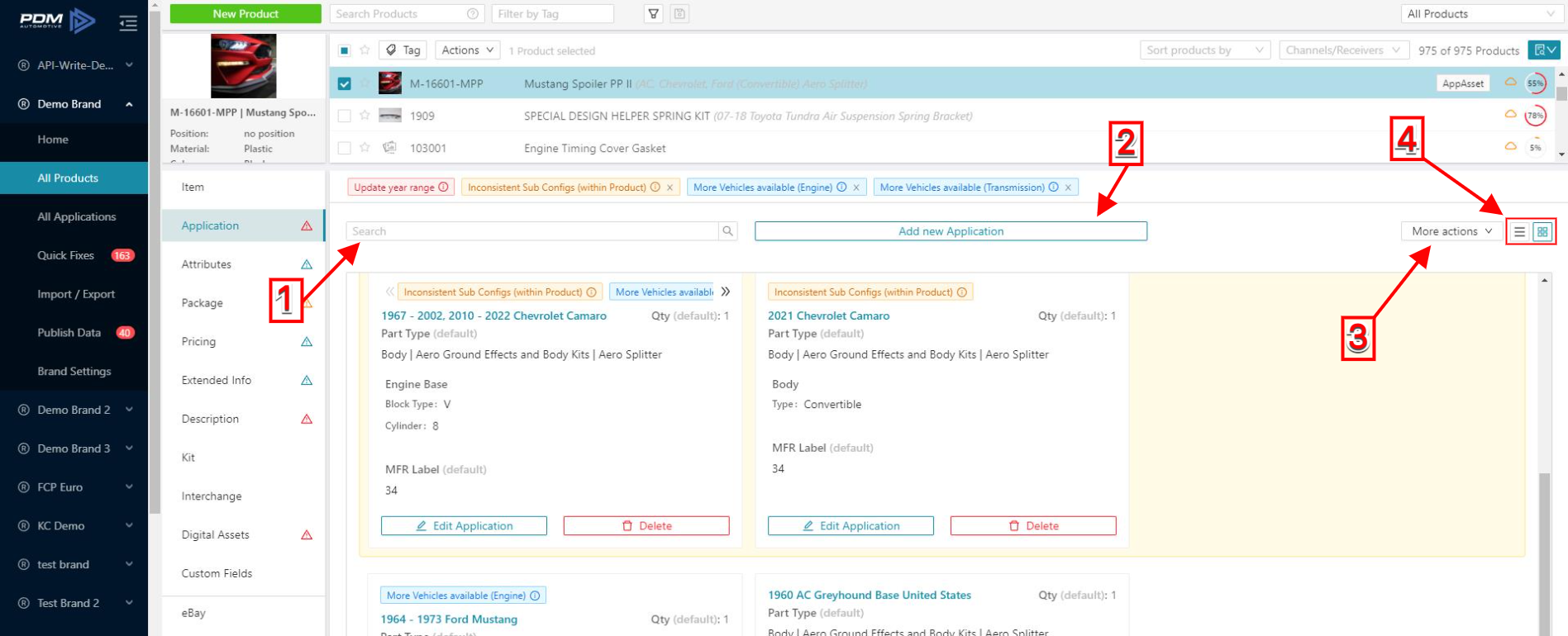 Related Articles

Application Segment - Add new Application

Add new Application When adding a new application for a product, PDM will color code available Subconfigurations (i.e., sub-models) based on selected Make, Model, and Year / Year range. Select a Brand and click All Products. ...

Application Segment - Display options

Display options Tile View The Tile View is the default in the Application Segment; here, each grouped fitment has its own tile. The Tile View icon is in the top right corner. Here, configured applications and associated information are arranged by ...

Application Segment - Group ID

Application Segment - Group ID Group ID is a numerical value used to manage fitment data in the application segment. It is used to group multiple pieces of information to one application, such as notes, qualifiers, or discontinuous year ranges. ...

Application Segment - Default Values

Default Values In the Application Segment, you can add default values to all applications within a product at the same time. Overwriting the default values for specific applications is also possible. Position The Position provides information about ...

Improving Application Data

Partially Valid/Invalid Application Data PDM is constantly analyzing your product data for potential improvements. You can easily identify and fix the application data updates with the help of the color-coding feature. Green indicates that the ...