Application Segment - Default Values
Default Values

In the
Application Segment
, you can add default values to all applications within a product at the same time. Overwriting the default values for specific applications is also possible.
Position
The Position provides information about the mounting location of a part in the vehicle.

Example:

Wheel: Front

Parking Brake Cable: Rear


Position information belongs in the Application segment. It is often incorrectly included in the Attribute or Description segments.
Qualifiers & Notes

A qualifier has an ID in the background and therefore is a standardized data point.
Some qualifiers stand for themselves, and some require a value.
E.g. "with A/C" vs. "with
name
A/C Compressor" where the name of the A/C compressor has to be added for more clarification.
Notes can be added and set up to display on every application as default.

Default qualifiers defined for child products will be added to those inherited from the parent product, not overwritten like with MFR Label or Position.
Add Default Values for all products.

Click on the More Actions drop-down menu and select Default Values.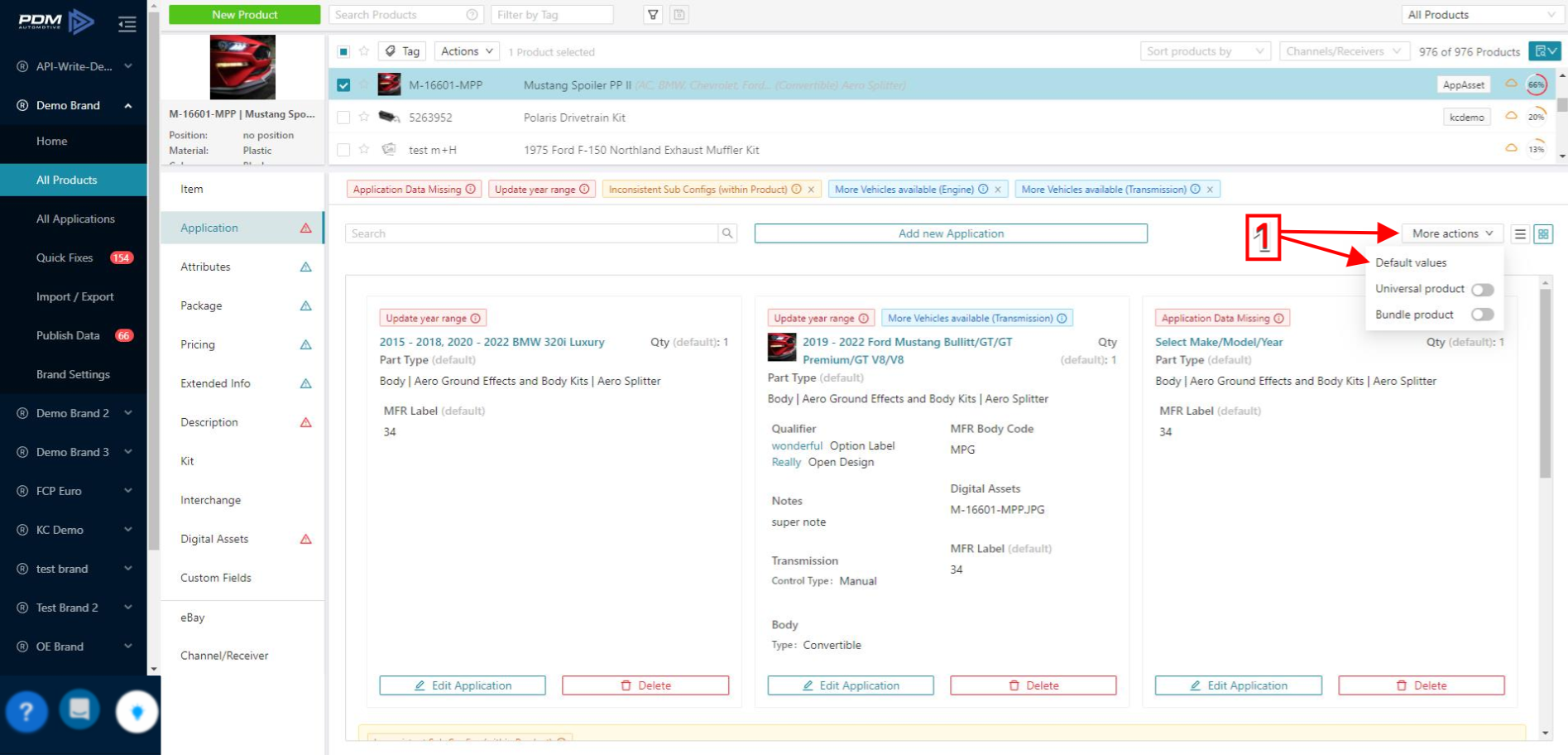 2. The
Default options
will open. It contains four field boxes, in which you can add
default
values: the
MFR Label
(Manufacturing label),
Position
,
Qty
, and
Qualifier
fields.
3. Enter a value in the
MFR Label
field, select a
Position
from the position drop-down list, and set the Qty.
4. S
elect one or more
Qualifiers
and enter any necessary parameters. You can add Notes by Clicking on the Add new button.
5.
Don't forget to click
Save.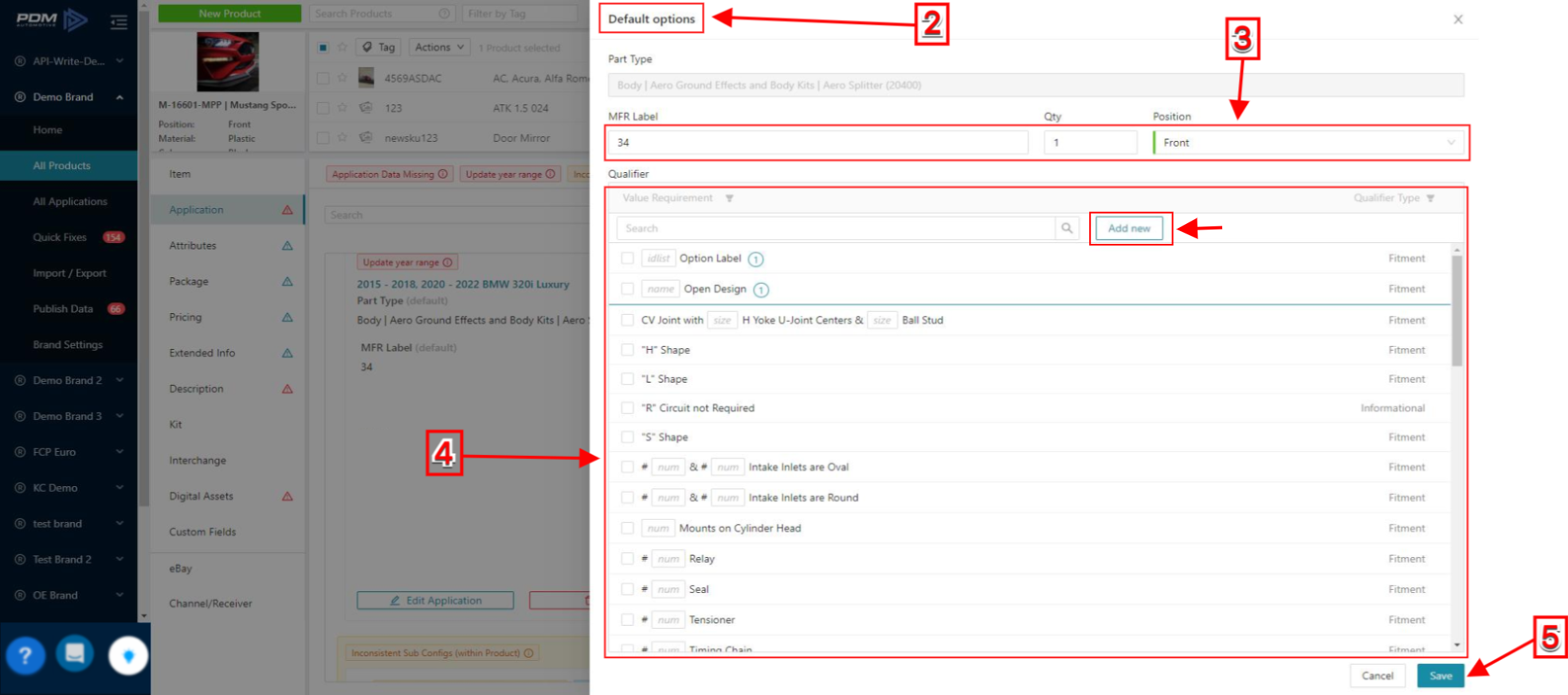 6. Default values are added to
MFR label, Qty, and Position fields for all products.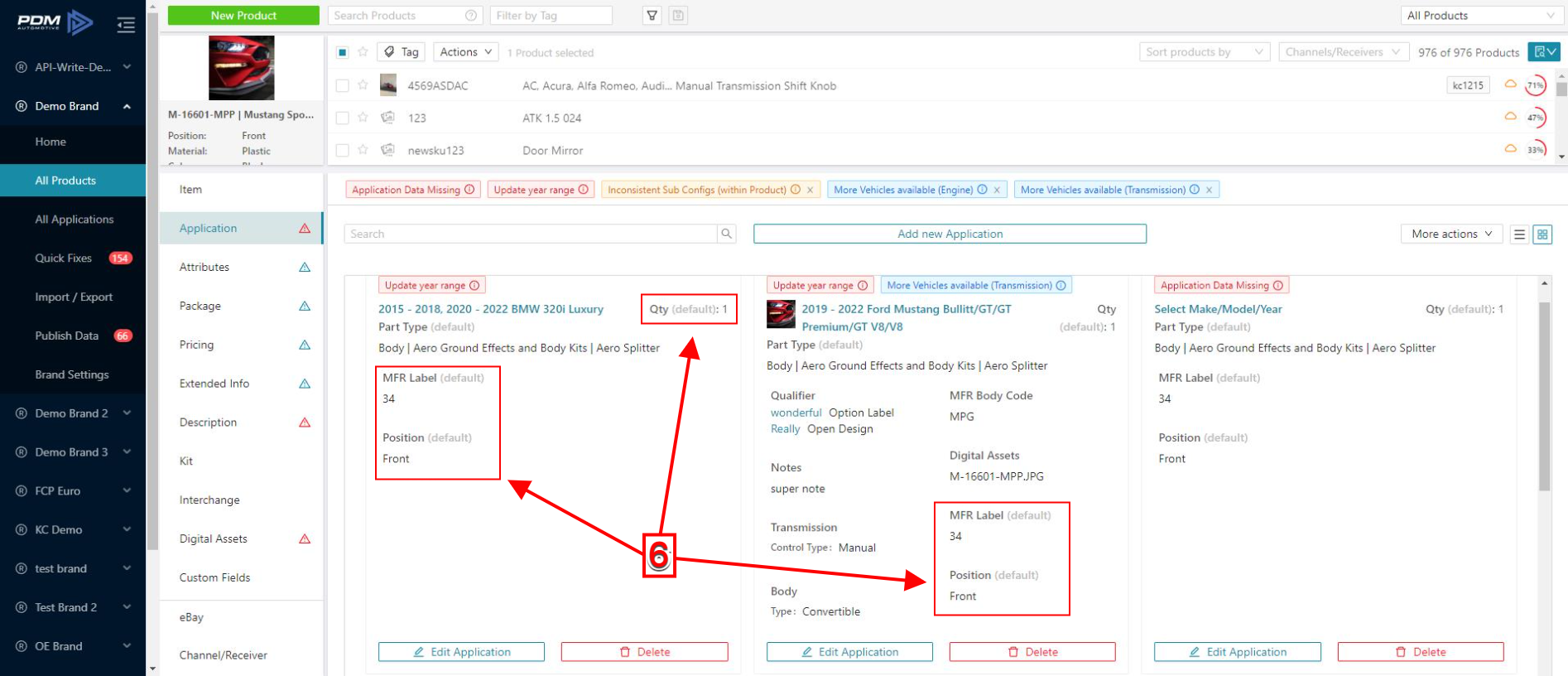 Overwrite the Default Value for specific Products

Click Edit Application on the MFR label or Position which you want to modify for a particular product.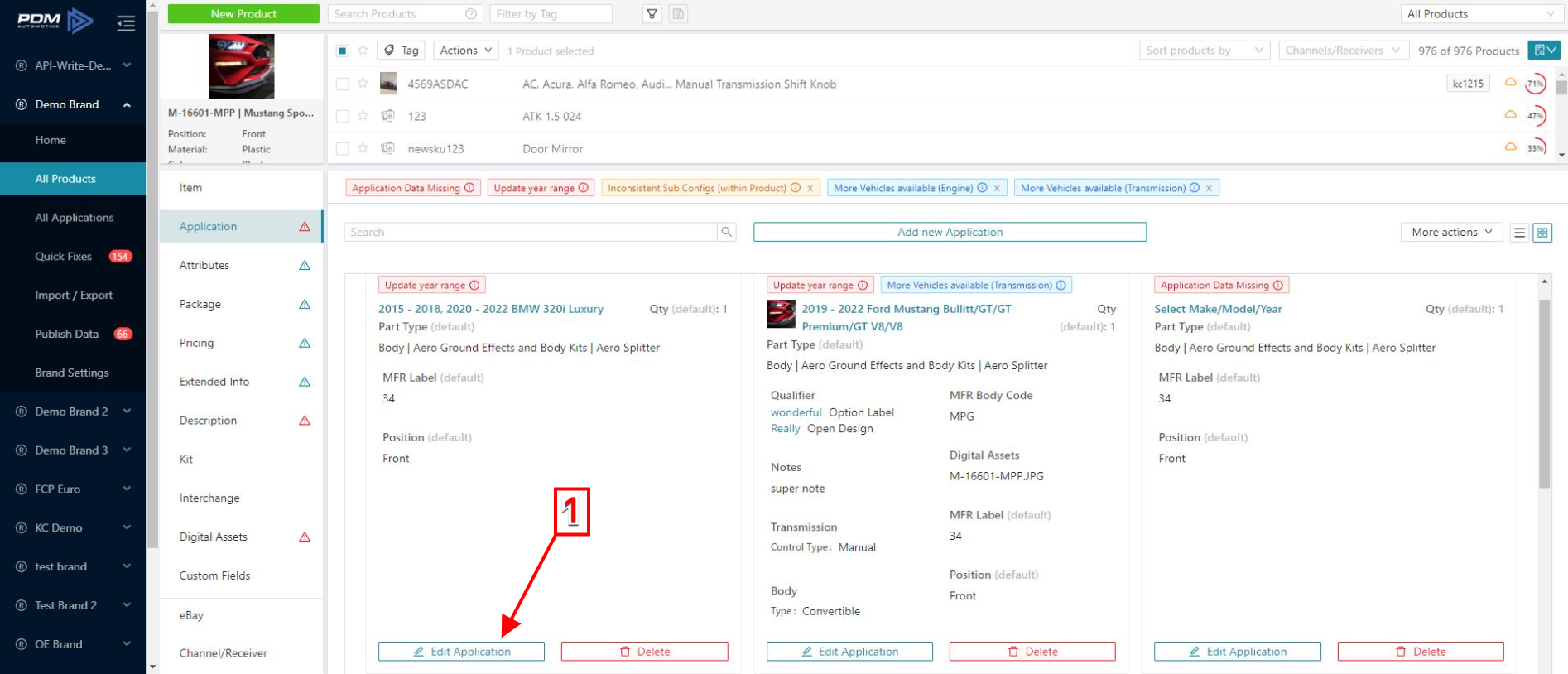 2. In the pop-up window, select an option and define a value to overwrite that product's default value; then click Save.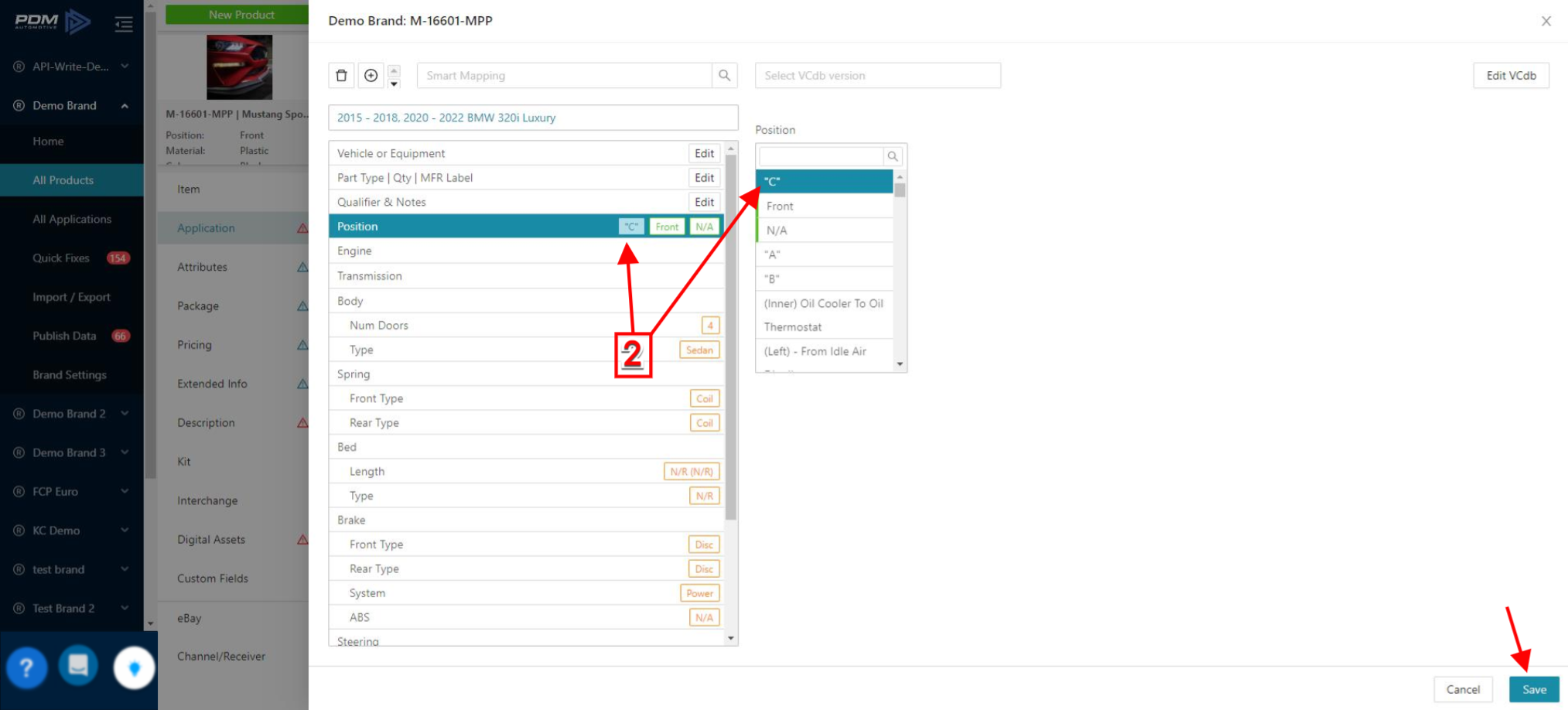 3.
The value has been updated just for that product.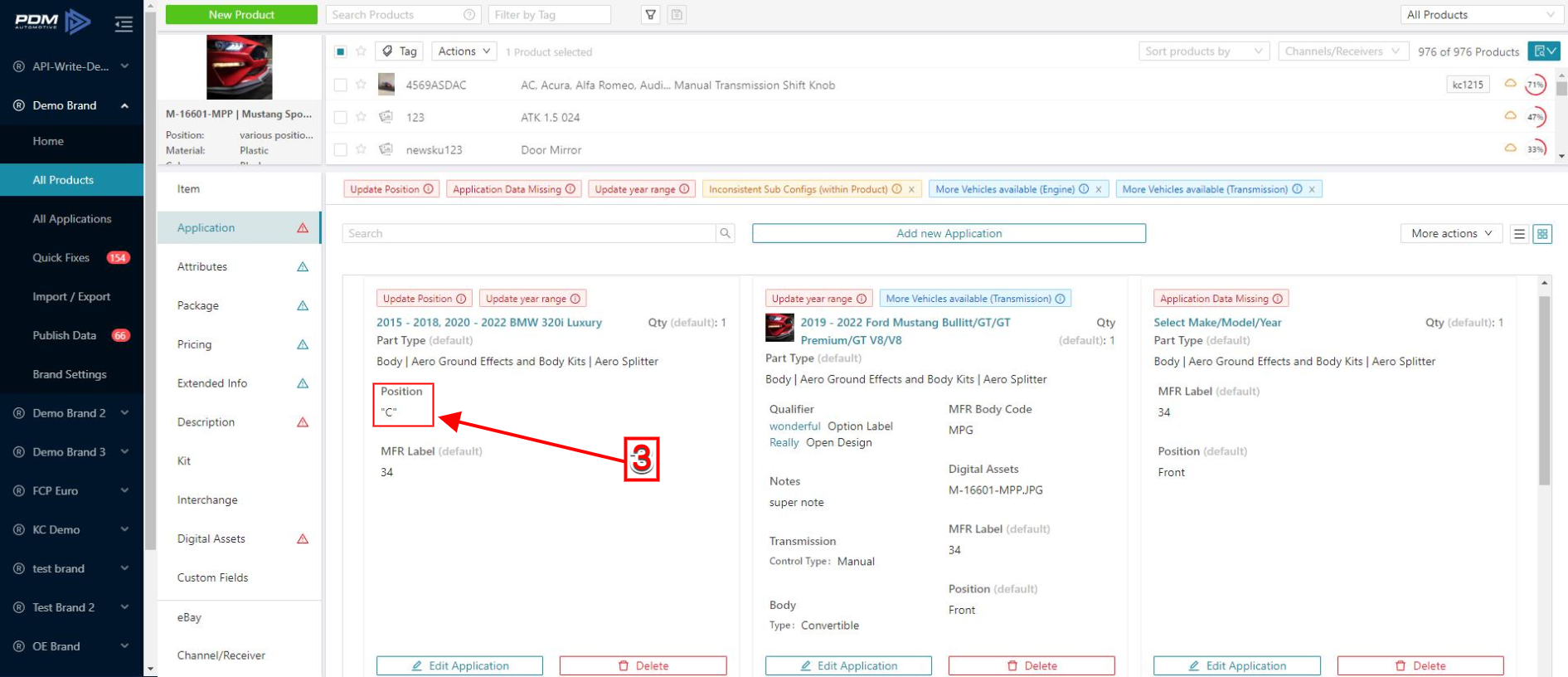 Related articles:

Related Articles

Default Values

Default Values Default Values are accessed through Brand Settings > Default Values. The default Language setting applies primarily to the Description Segment. The GTIN Qualifier applies to the GTINs found in the Item Segment and Package Segment. ...

Application Segment - Add new Application

Add new Application When adding a new application for a product, PDM will color code available Subconfigurations (i.e., sub-models) based on selected Make, Model, and Year / Year range. Select a Brand and click All Products. ...

Application Segment Overview

Application Segment Overview In the Application segment, you provide information on vehicle fitments. Applications can be configured on multiple levels. Applications are defined in the following order : Year Make Model Sub configurations (Engine, ...

Application Segment - Display options

Display options Tile View The Tile View is the default in the Application Segment; here, each grouped fitment has its own tile. The Tile View icon is in the top right corner. Here, configured applications and associated information are arranged by ...

Application Segment - Group ID

Application Segment - Group ID Group ID is a numerical value used to manage fitment data in the application segment. It is used to group multiple pieces of information to one application, such as notes, qualifiers, or discontinuous year ranges. ...