Inherit/Link Application Data
Inherit/Link Application Data
You can inherit application data among your products. This feature also works across all of your brands. By linking Application data, you
can combine application data that you manage individually on the child product level with application data inherited from a parent
( one parent product inherits to multiple children products / one children product can inherit from multiple parent products )
.

The
ACES
file includes all applications (regular and inherited).
How to manage Inherited Application Data

Click on a Brand and select All Products.

Select a Product from the Catalog and click on the Application Segment.

Click in More actions and select Link applications from the list.

4. Activate if you want to search through all brands.

5. Enter a Part Number to search or start typing, select the desired Part Number, and then click Save.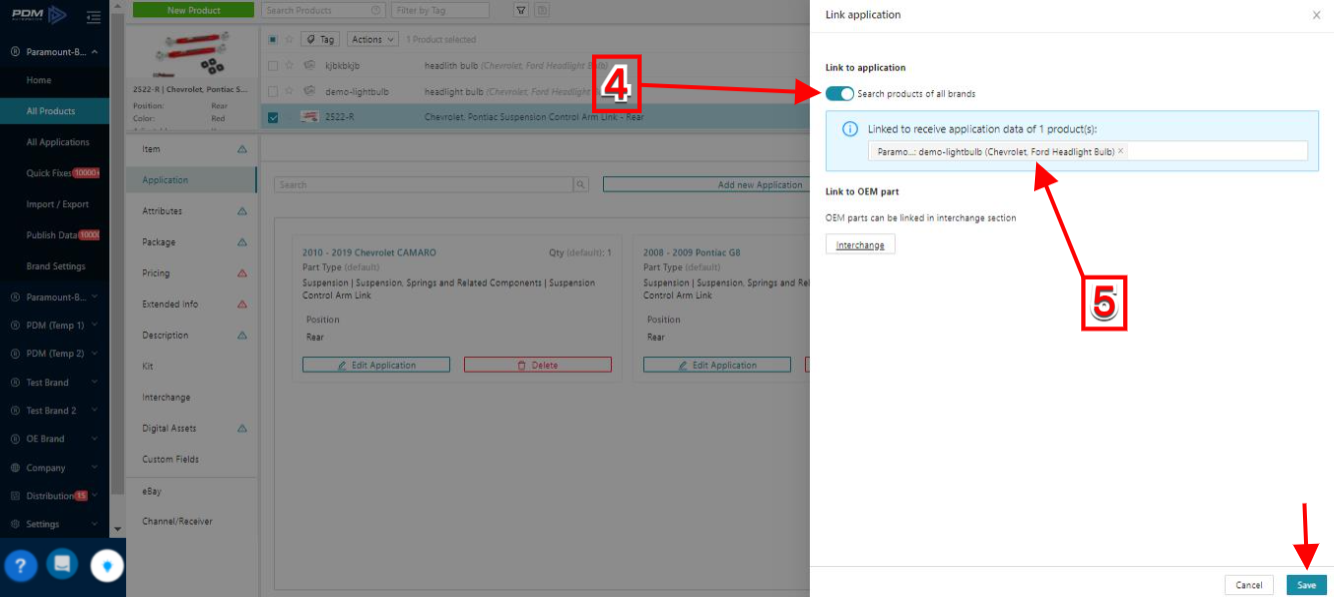 Inherited applications have a blue background and show at the top the
Part Number
they are inheriting from. You can there also
Unlink
the connection.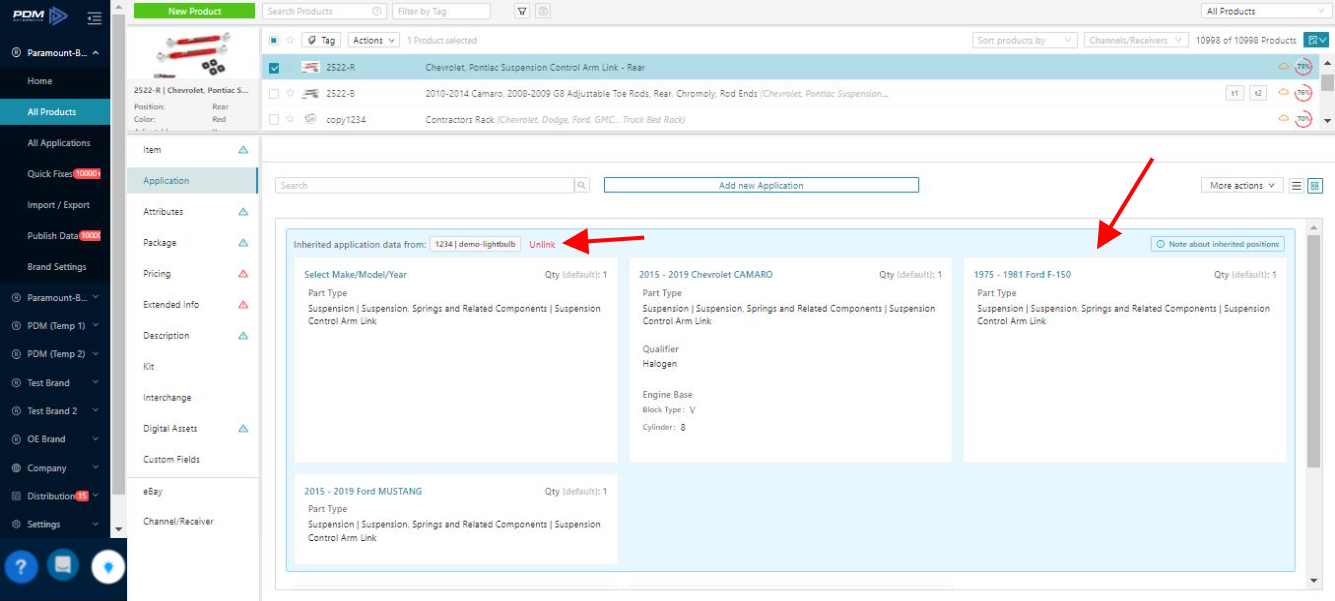 It is not possible to have multiple layers of inheritance. Children products only inherit application records that are assigned to the parent directly.
If you need to add to those inherited products more detailed data like add
Order
,
Qualifiers
,
Notes
,
Position
, etc.
PDM
offers you the
Bundle Feature
, which gives you more options to add and manage your inheritance data
Related Articles

Improving Application Data

Partially Valid/Invalid Application Data PDM is constantly analyzing your product data for potential improvements. You can easily identify and fix the application data updates with the help of the color-coding feature. Green indicates that the ...

Import/Export Parent/Child Application Data

Import/Export Parent/Child Application Data This article will focus on importing and exporting parent-child relationships in application data. For information on creating inheritance relationships for applications between products, see Inherit/Link ...

Import/Export Bundle Data

Import/Export Bundle Data You can Import and Export data from the Bundle Feature right from the catalog. Export the Bundle Data Click on a Brand and select All Products. Select the Application segment and select a parent product from the catalog. ...

Application Segment - Add new Application

Add new Application When adding a new application for a product, PDM will color code available Subconfigurations (i.e., sub-models) based on selected Make, Model, and Year / Year range. Select a Brand and click All Products. ...

Application Segment Overview

Application Segment Overview In the Application segment, you provide information on vehicle fitments. Applications can be configured on multiple levels. Applications are defined in the following order : Year Make Model Sub configurations (Engine, ...