Recommendations, Warnings, and Errors
Learn more about the colors and their meaning
To access the Recommendations Section:

Select a Brand, and click on Home.


The graph gives you feedback about how many products need attention at what level:



Blue (

Recommendation)

= Possible Data improvement (e.g., Year Range Extension)= Review recommendation and decide whether it is an improvement

Yellow (Warning) = Information that should be added (e.g. "add attributes")= Fix recommended

Red (Error) = Severe issue (e.g. broken image link, invalid application)= Fix required



Click on an option and click on the button to open the All Products Catalog.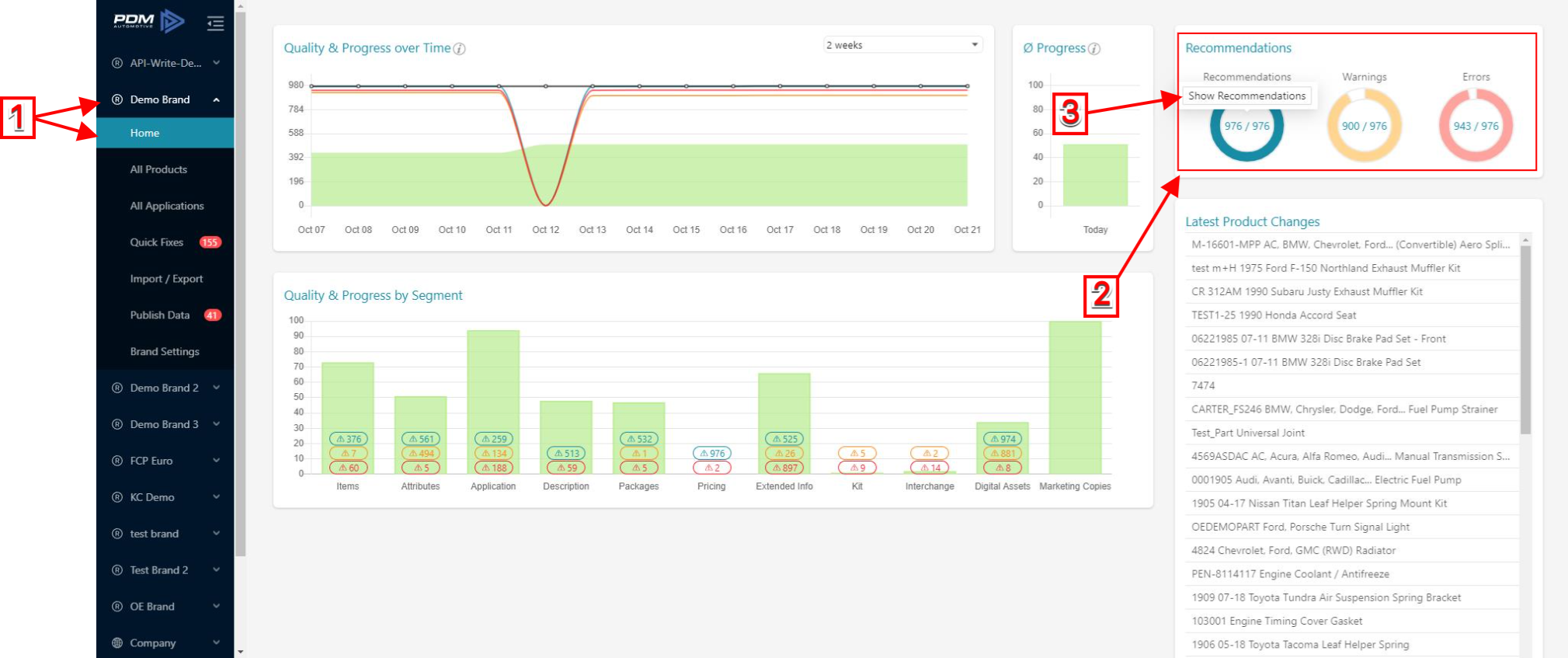 4. Click to expand the catalog.


5. Here, you can see the alert type you selected.

6.
In this column, for every item in your current session, you see the progress (% value) as well as the quality of the specific product (color).

The color indicated in the icon will depend on the quality of the product, regardless of your selection ( e.g., If you filtered for

Recommendations

, you can still see the icon colored red if it has any

Errors

or orange if it has

Warnings;

it will give priority to the errors in case it has both).

A red circle means that there is at least one error within a segment.

A yellow circle means that there is at least one warning within a segment.

A blue circle means that there is at least one recommendation within a segment.

A green circle means that the data have no recommendations
, warnings, or errors
.

A checkmark will indicate that everything matches the Scorecards
and there are no recommendations, warnings, or errors.

The better the quality of the product is, the bigger the percentage ( % ) value.
If any of these circles has a number and percentage, then the data is not completely filled out according to the
Scorecards
.

By clicking on the Star icon, you can mark the product as
Favorite
.

8. In this section, you can see where your product has
Recommendations
,
Warnings
, or
Errors
. Click on the icon to get more details.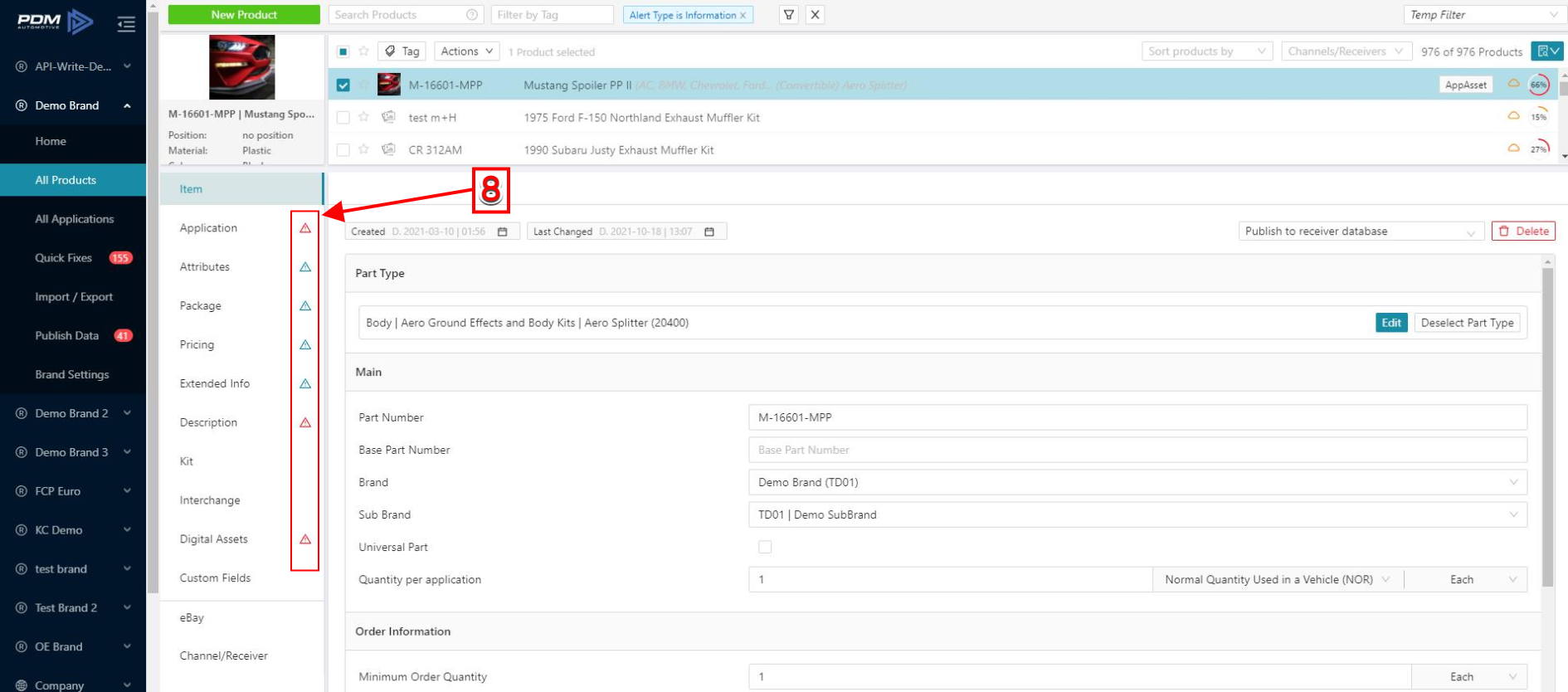 9. You can visualize the Alerts in the upper bar-side and for each specific Application. Hover over the information (i) icon to see an alert description.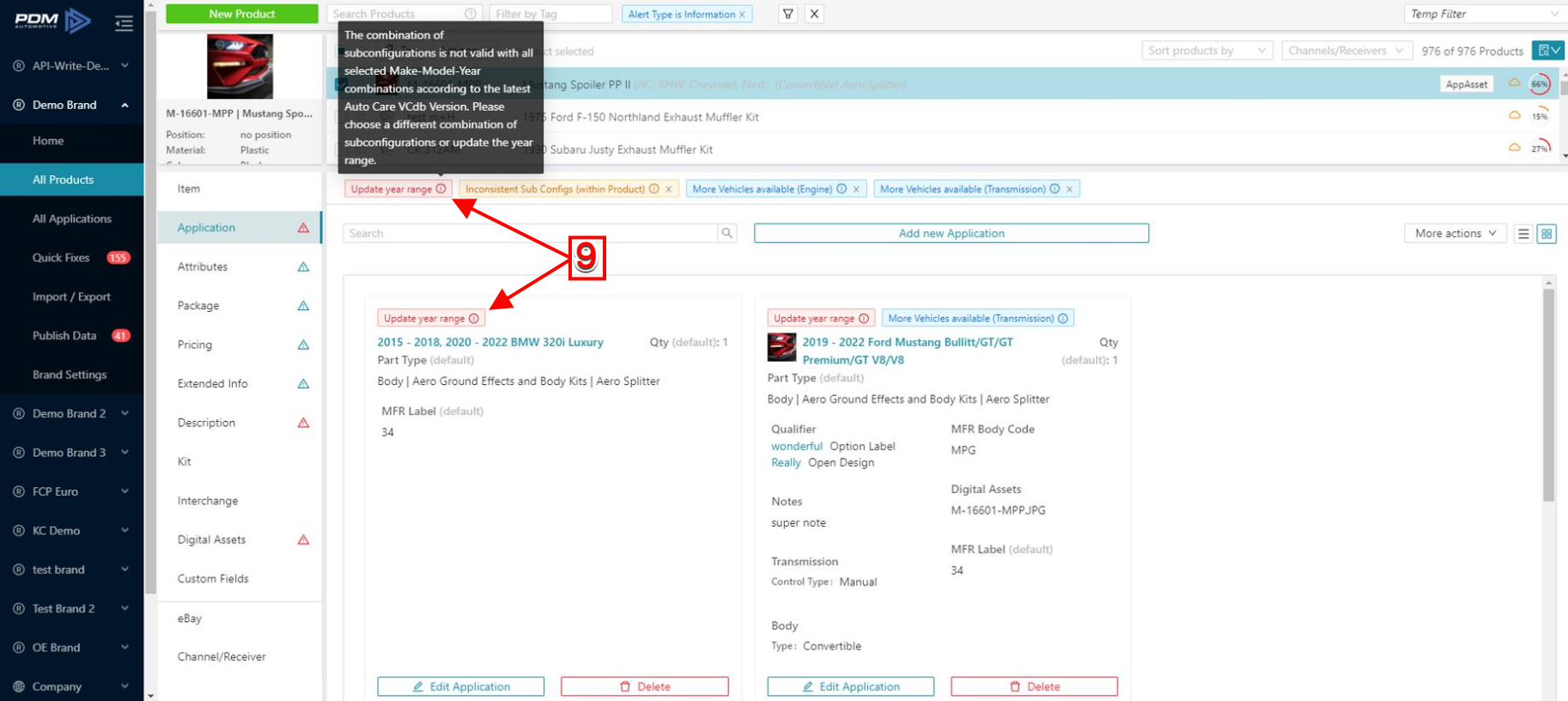 Related Articles

Part Type Recommendations

Part Type Recommendations Get recommendations for the best Part Type for your product data. Onboarding made easy and keeping your data up to date! PDM offers you a recommendation engine to suggest the best matching Part Type for your products. ...

Know what data content to provide

Data Quality and Validation Creating "correct" ACES&PIES files is easy (it has been done before) but providing actually rich content is crucial ( it can now be done!). With your PDM account, you get actual feedback about your content quality and ...

Dashboard: Overview

Dashboard: Overview 1. The Dashboard is the first that you see when login into your PDM account. To access it, simply click on a brand and it will display automatically under the Home tab. 2. In some brands, the Home tab will display first the User ...

Adding products

Adding products After going through your First Steps in the tool, you can start adding products to your account. Create New Product Click on a Brand and select All Products. Click in New Product. 3. Write a unique PartNumber 4. Select a ...

First Steps

Welcome to PDM Automotive - your final destination for all automotive data management. Self Training inside PDM Within PDM you have several options to access training material: Tooltips and links to support articles. Tutorials. Support Center ...