Export: ACES (Net Change) /BETA
Net Change option
PDM allows you to deliver ACES data showing only specific applications that were configured within a channel.


This option is
only available within a Channel Plan because it compares the last sent
files
in order to create the Net Change file.
By activating the Net Change option, you would be able to deliver ACES files that only show the latest updates made to the brand configured in each plan.

Go to the Channels segment.

Select a channel.

3. Click
Edit Plan
in the
Options
dropdown to set the plan options or
Create a new Plan
.

Activate the Advanced Export Options toggle switch.


Advanced Export Options
is an
add-on
. If you are interested in this, please contact us at
sales@pdmautomotive.com
, we'll be happy to assist you.

4, Select Yes in the Net Change option within the Advanced Export Options.

5. Select a Delivery Method and click Save.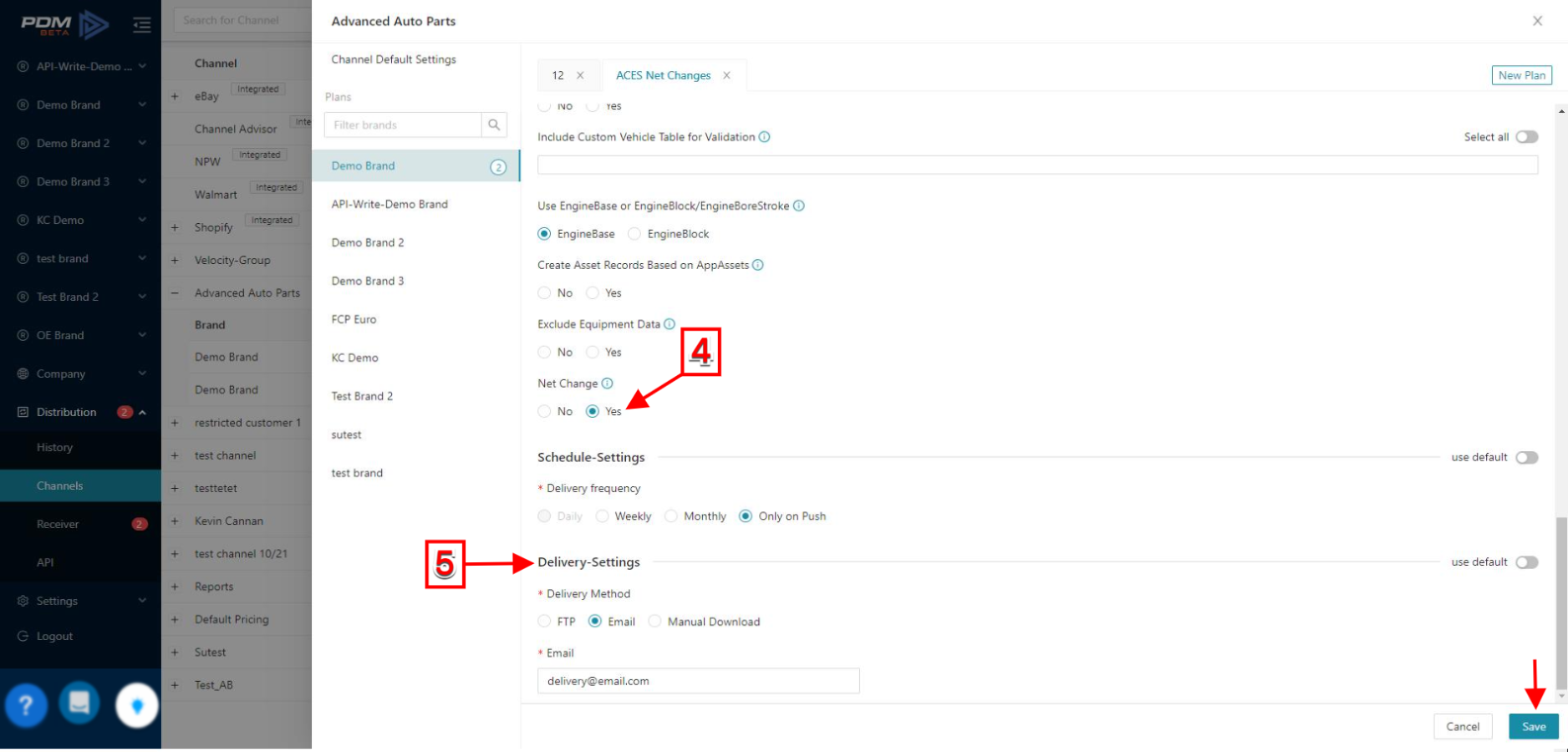 6. Once you have set up the plan delivery options, select Push now in the Options dropdown to deliver the ACES available updates.



The Net Change option can NOT be manually downloaded. This option is only available for scheduled deliveries AND it can be pushed once scheduled.

Click Ok. You will send an ACES file that contains only the last updates.


Related Articles

Export: ACES

Export: ACES ACES (Aftermarket Catalog Exchange Standard) information is exported as an XML file. Exporting from the Import/Export Menu Select a Brand and click Import/Export. Click Export in the submenu. Select Parts and choose a Database. ...

ACES 4.2 Version

ACES 4.2 Version PDM supports ACES (Aftermarket Catalog Exchange Standard), at its latest version (4.2), allowing the user to export data according to the AutoCare Association Standards. ​ When Exporting ACES, choose the 4.2 version and select a ...

Export Options Overview

Export Options Overview Export Options allows you to modify data formats at the time of export. These exports formats have export options available: Excel (Full) Export Builder Plus ACES PIES Digital Assets Accessing the Export Options Select ...

Excel Import & Export Reports

Your data is validated already while importing it. The Excel Import and Export validations give you valuable feedback. The Excel Import and Export reports give you feedback that helps you to improve your files to get non-ACES compliant data into the ...

Advanced Export Options

Advanced Export Options The Advanced Export Options tool offers you a variety of additional options to include in your exports. The Advanced Export Options work in both, the Excel export and the ACES export. Advanced Export Options is an add-on. If ...