Data Request - Receiver View
Request Data from the Brand account

In the Receiver View, you can request data, accept or reject data offerings from integrated Brands.

How to request Data from Brands:
Click in Available Brands and select All Brands.


To filter for a brand, click on the Filter icon and search for the brand you are looking for. Once you find it, select the brand and click Ok.


You can see all the listed brands in this column. Scroll down to see all the brands. Once you find the brand you want to request data from, click on the left checkbox to select.


Here you can see more details of each brand, such as the Source, the number of Products, and the Last Updates.


Once you have selected a brand, click on Request Data.


In this column, you can see your request's status and each action in the Actions column.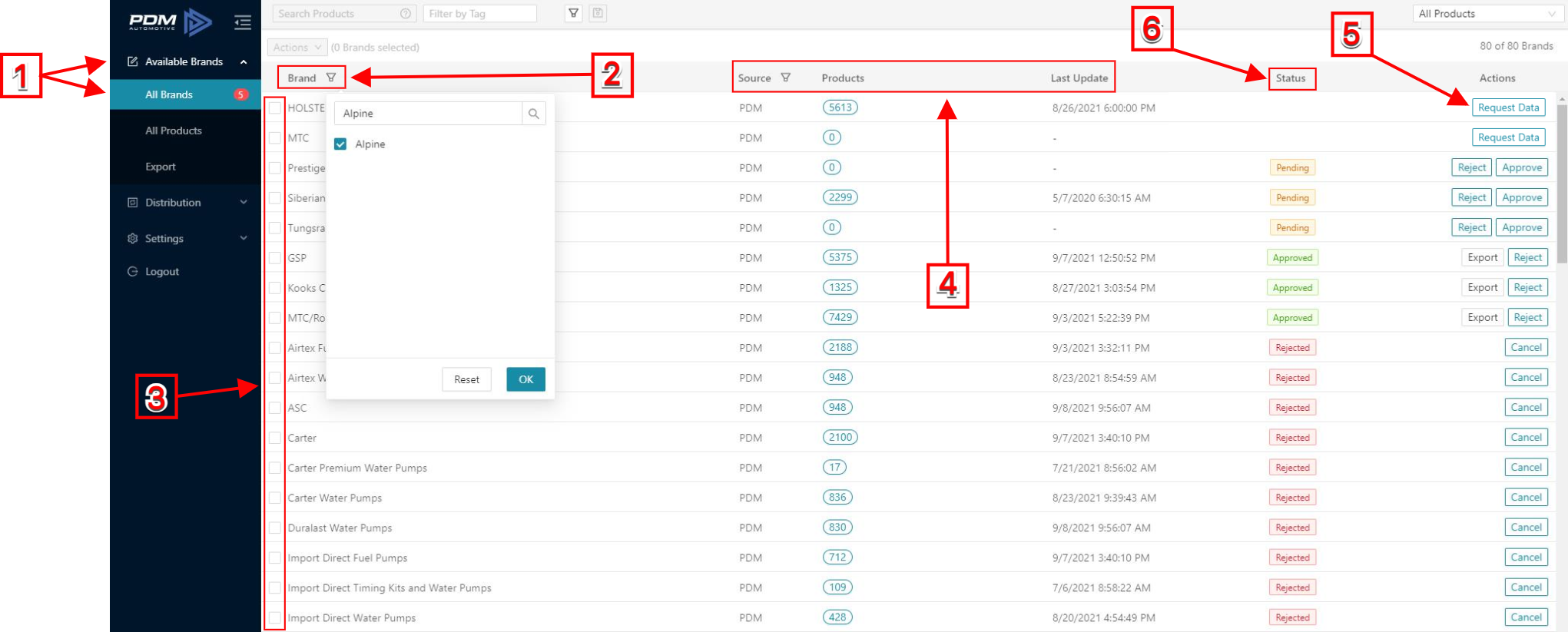 Once you have made a request, the brand will receive a notification so they can Approve or Reject your request.

Related Articles

Data Request - Brand View

Data Request - Brand View In the Brand View, you can view, approve, or deny data requests from integrated receivers. Product or Brand data can also be offered proactively. How to Share Data with Receivers: Click the Distribution drop-down in the main ...

Receiver Account Overview

Receiver Account Overview When opening a Receiver Account in PDM, the following items will appear in the left menu bar: Available Brand - All Brands . Working with Filters - All Products - Exports Distribution ...

Data Distribution with PDM

Data Distribution with PDM To easily get your high-quality product data distributed, you have a variety of options: Channels (controlled by you) Set up exports to happen automatically on your preferred schedule to have data pushed daily, weekly, or ...

Publish (sync) Product Data

Publish (sync) Product Data For your safety, when working on your Product data, there are two databases: Staging Database and Receiver Database. You are always working in the staging database, which is never public and not yet available to ...

Receiver specific scorecard

As an integrated receiver, you have the option to provide us details about your specific data requirements. These data requirements are used to validate your supplier's data yet before they are submitted to you. This assures the highest data quality ...