Receiver Account Overview
Receiver Account Overview

When opening a Receiver Account in PDM, the following items will appear in the left menu bar:

Available Brand
- All Brands
. Working with Filters
- All Products
- Exports
Distribution

Settings

Logout

Available Brand Section - All Brands

List of available Brand Names. Click in the Filter Icon to select the Brand names.

Click in the Filter Icon to select the Source.

Number of Published Products belonging to the brand. Click on the Number Icon to see more details ( it will take you to the All Products tab and display all products for the selected brand).

Here you can see the last update of each Brand.

The Approval Status for the brand can be None, Pending, Rejected, or Approved.


Options in the

Actions

column will depend on the brand approval status.

Request Data

will submit a request for approval to the brand. You can export products for

Approved

brands in Excel, ACES, PIES, or Digital Assets formats. Exports will include data for the pricing segment. You can choose to

Request

or

Approve Brands as well.



Available Brand Section - Working with Filters

Click the Add/Edit Filter Icon.




The Filter: All Products dialog box appears. Choose Filter By, select Application, and enter a Filter Value.

Click Show Results to apply the filter.



Click the Save Filter Icon. Enter a Filter Name and click Save.

The Number of Products matching the filter will be updated for each brand.



Click on the Trashcan icon, press the Delete button to delete a filter.

Saved Filters, as well as All Products and Marked Products, can be selected from the dropdown menu in the upper right.




Available Brands Section - All Products



Product data is displayed in the Catalog.


If you're not seeing all Brands or Products make sure to Clear filters.


Choose a Product from the catalog and click on

Open detailed product preview

to view the different segment information of the product.



4. The information present depends on the Approval Status of the brand. Unapproved, Pending or Rejected brands will still show all available products, but none of the segment information will be available. Approved brands will show all segment data except for Pricing, which is only available through export.

5. Segment info available for products of approved brands.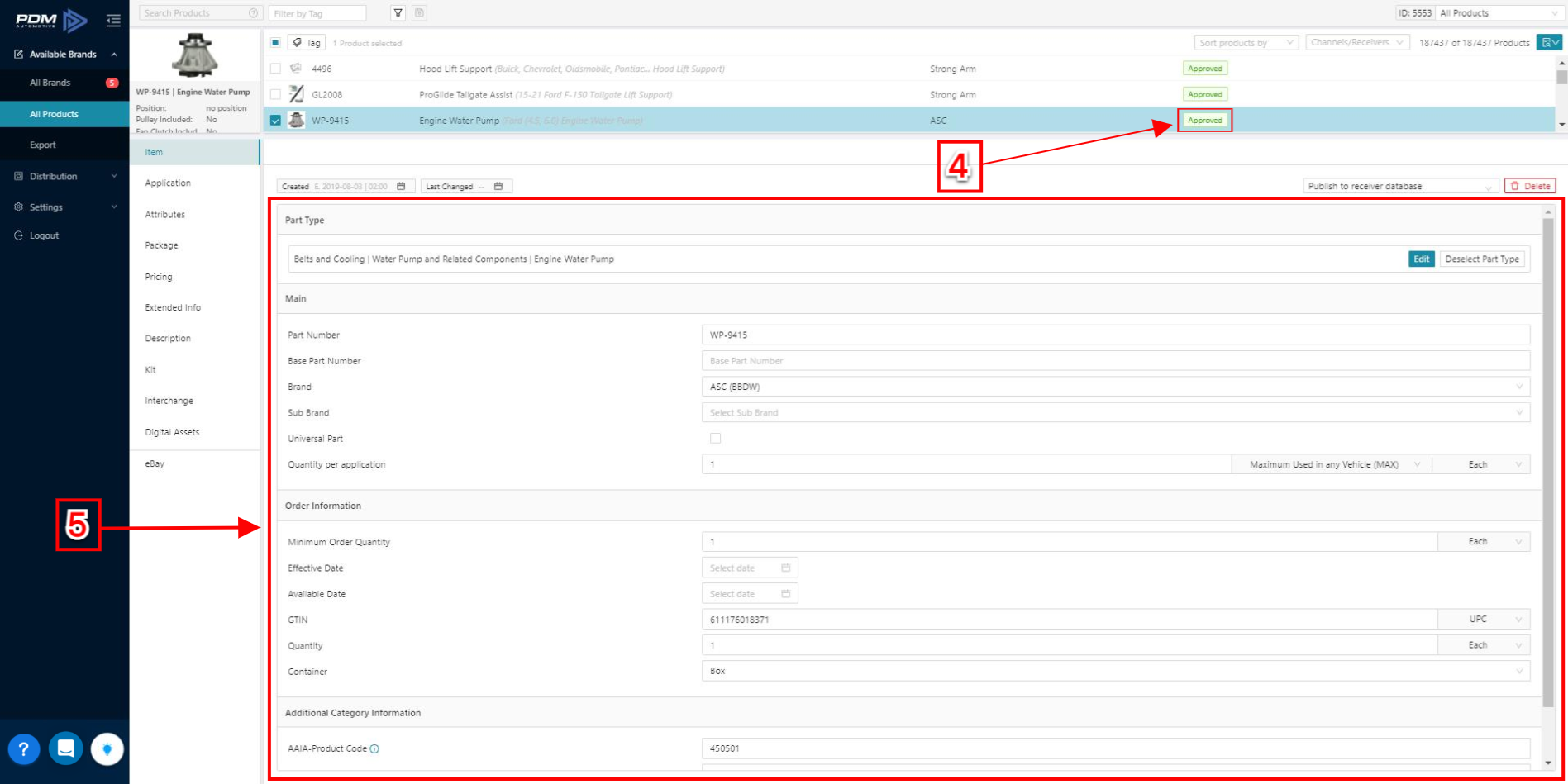 6.
Segment info not available for products of unapproved brands.
Available Brands Section - Exports
You can Export products for approved brands in different formats. Different Segments can be exported. You are allowed to select multiple brands for export (This option is only supported for Export Builder Plus).

Export Reports allows you to download exported data. You can also view Error Logs.


Export Builder Plus

is an

Enterprise Feature

.

Export Builder Plus

is used to connect the user's product data to any other system through a flexible template builder.

Import Reports

allows you to download imported data like

Custom Fields

. You can also view

Error Logs

.
Distribution and Settings Section

A log of automatic exports is accessible in the History tab


API Settings is an Enterprise Feature. You can access all of your data in the receiver account, and it is also easy to integrate with your website/external system. See API: Settings

Settings allows you to setup/manage additional users


Related Articles

Users in Receiver Account

Users in Receiver Account There is no limitation on the number of users you can associate with a PDM Receiver Account. Keep in mind that users cannot be deleted, only set to Inactive. Create New User Click the Account Settings tab and select ...

Automation feature for Receiver accounts

Automation Overview With the Automation feature, you can create, edit and run scripts in the UI to automate processes or repetitive tasks, and it doesn't require you to spin up your own server or automation environment. An example use case is if you ...

Dashboard: Overview

Dashboard: Overview The Dashboard is the first that you see when login into your PDM account. To access it, simply click on a brand and it will display automatically under the Home tab. 2. In some brands, the Home tab will display first the ...

Data Request - Receiver View

Request Data from the Brand account In the Receiver View, you can request data, accept or reject data offerings from integrated Brands. See Tutorial: How to request data from brands How to request Data from Brands: Click in Available Brands and ...

Manage Brands in Receiver Accounts

The default page for a Receiver using PDM is the All Brands>All Products tab seen here: Brand Name The number of Products, and the View button, which will take you to the All Products tab, filtered for that particular brand. The information present ...