Export Data using Templates
Export Data using Templates
Use
Export
Template
to download data using templates created in
Export Builder Plus
. There are two methods to access Export Template:
Access to Export Template from Import/Export

Select a Brand from the main menu and click the Import/Export submenu.

Click Export.

Click All Parts and Select Database.

Click Next.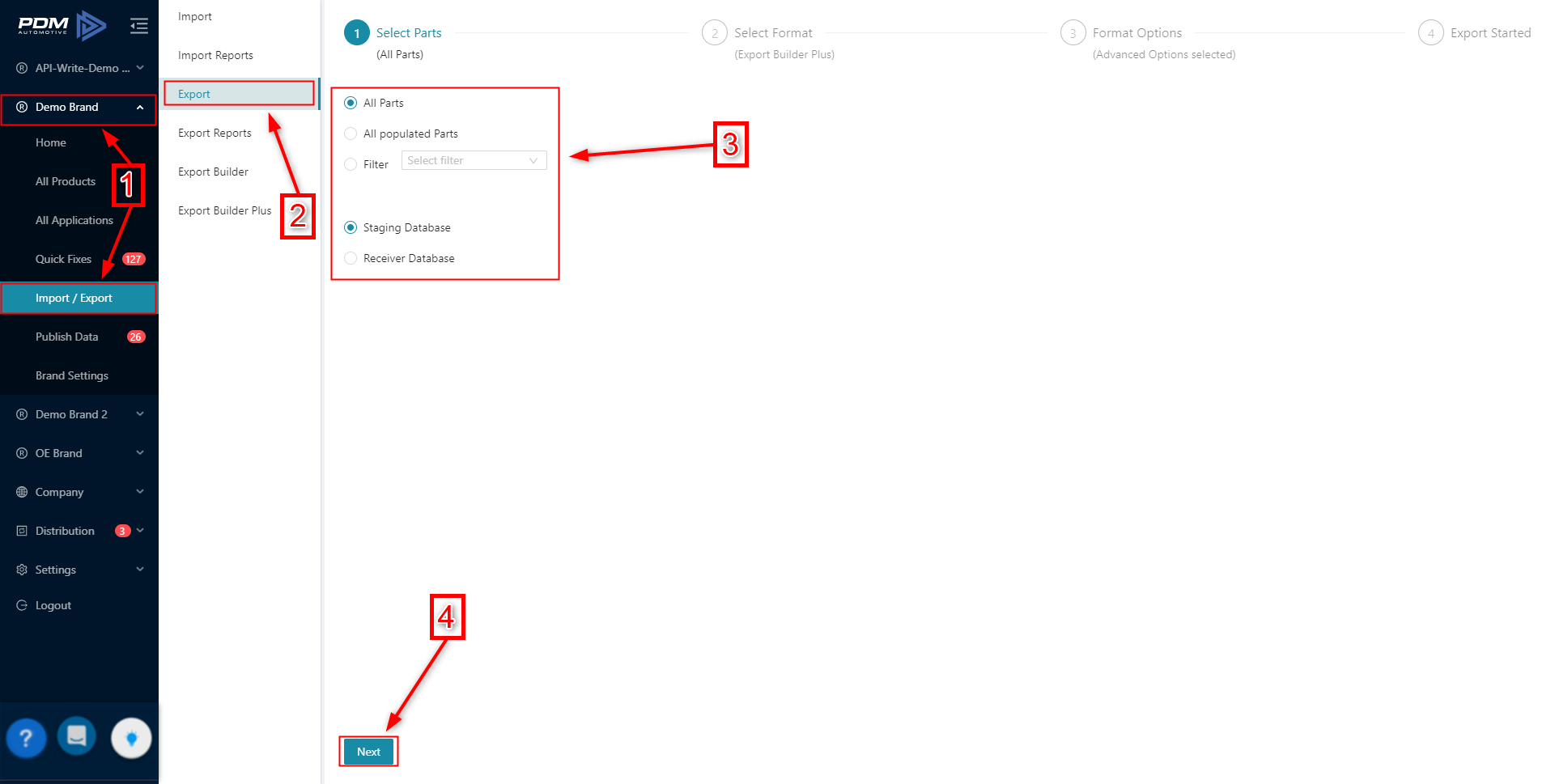 5.
Select
Export Builder Plus
and click
Next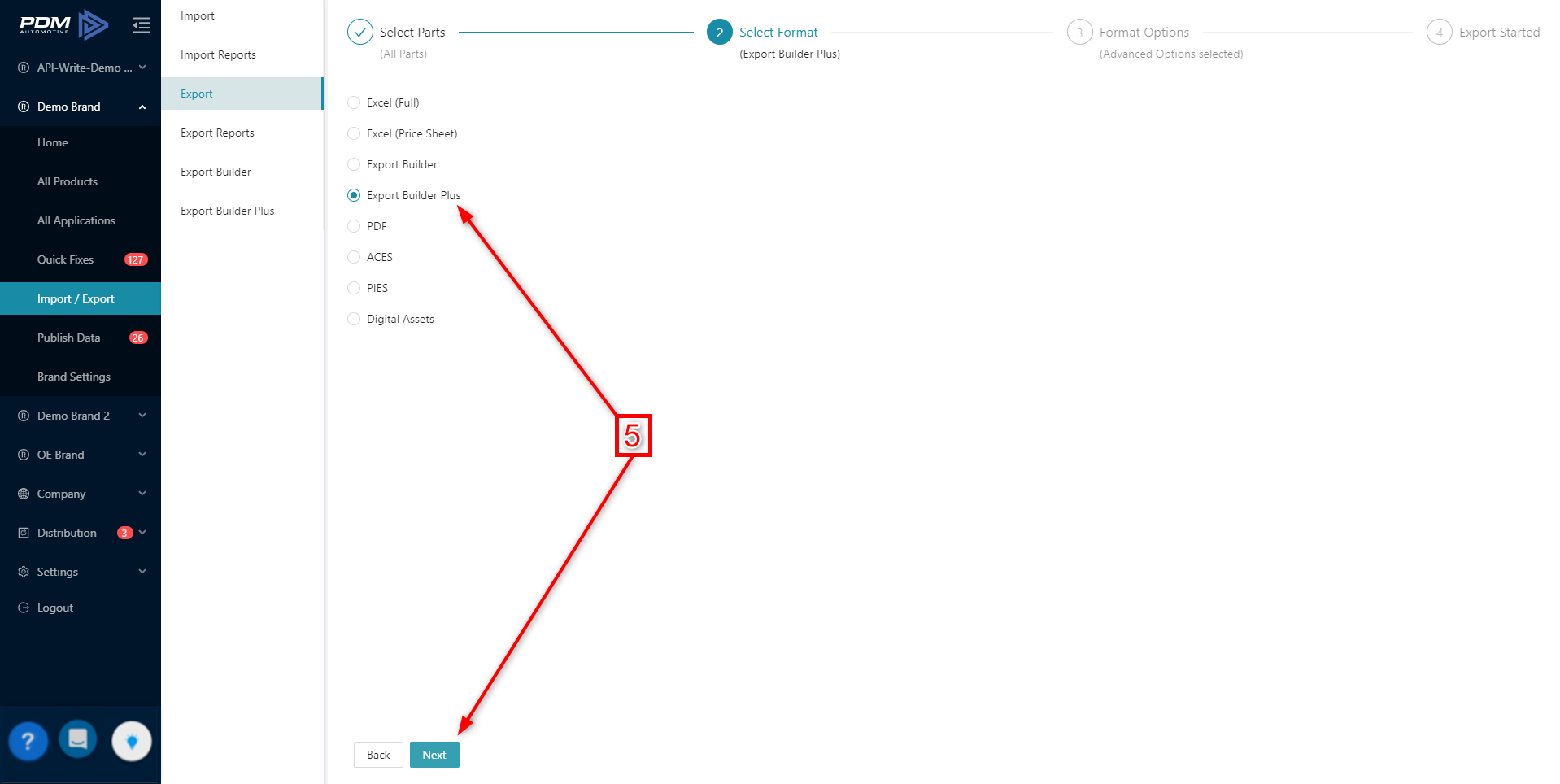 6. Choose a template from the Export Template drop-down menu.

7. Turn on the Advanced Export Options toggle button to access the advanced export options.

8.

Expand your ACES file based on the selected subconfiguration(s). By default, if you do not select any value when configuring ACES, all values are included. This Export Option will include all values if none is

selected.

9.

Expand your ACES file dynamically to always include values for subconfigurations that are used with at least one Make Model Year. This applies on a base vehicle (MMY) level. E.g. if you have selected a transmission for a 2005 Ford Mustang for one product, all other application records with the same base vehicle will also include transmission information.

10. Use the Select All toggle switch to select all sub-configurations.


11. Click in Export.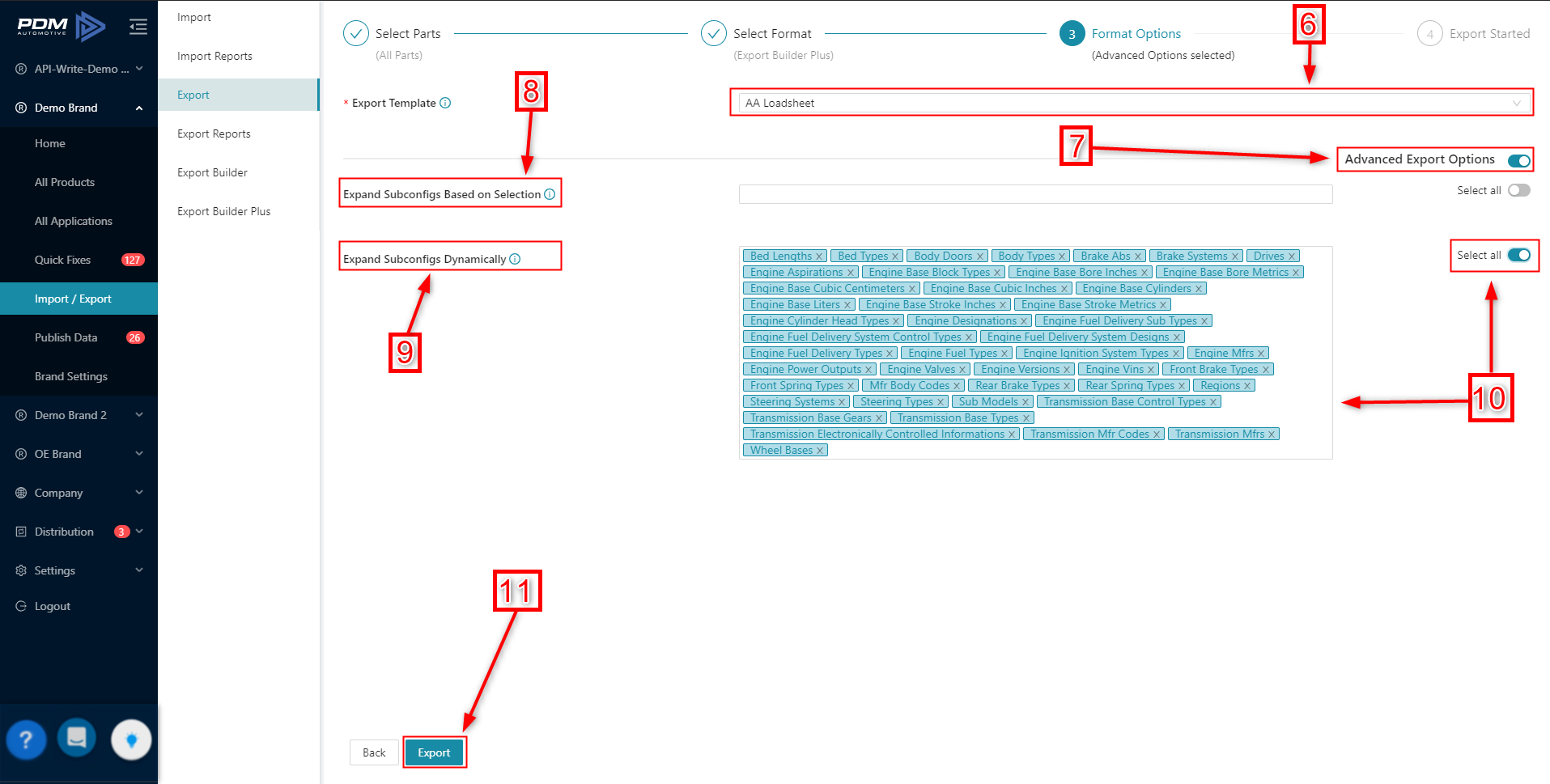 Access to Export Template from All Products
Select a Brand from the main menu and click All Products.

Select one or more product(s) from the catalog.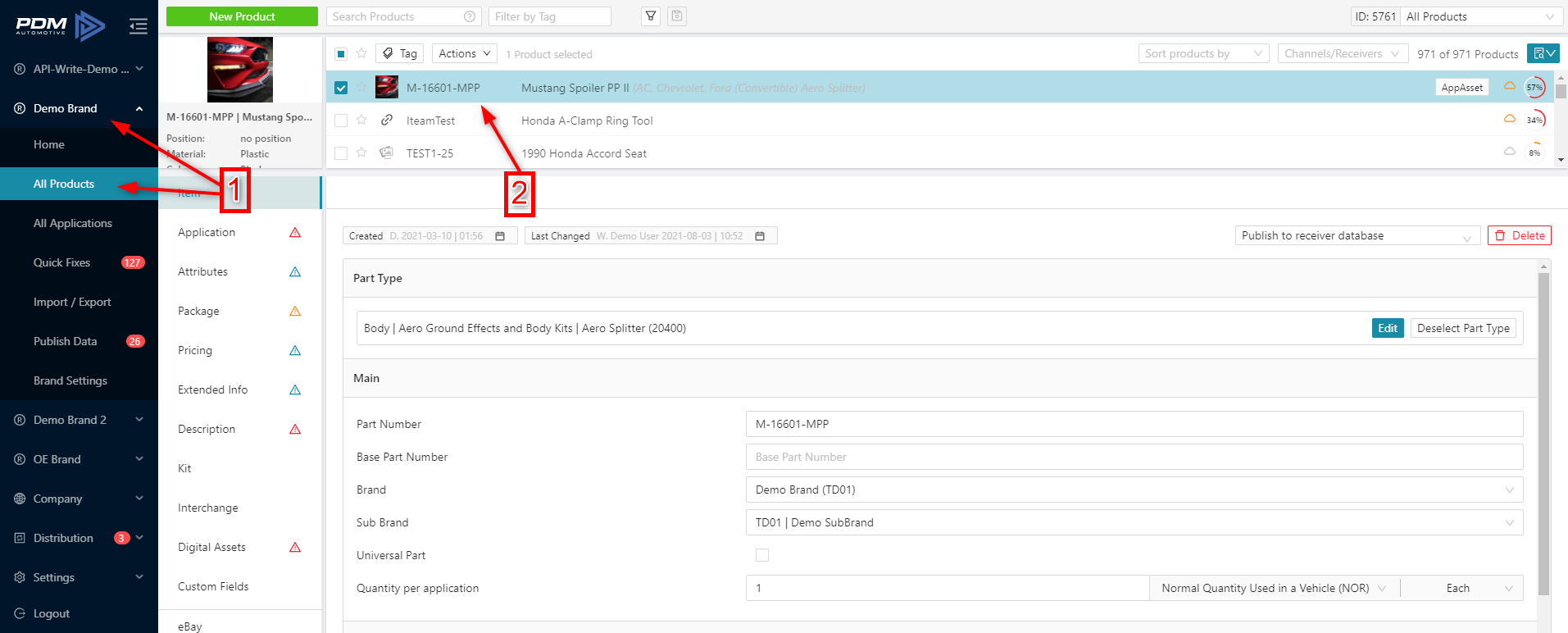 3.
Click on the Actions drop-down list and choose Export.
4..
Click in
Export Builder Plus.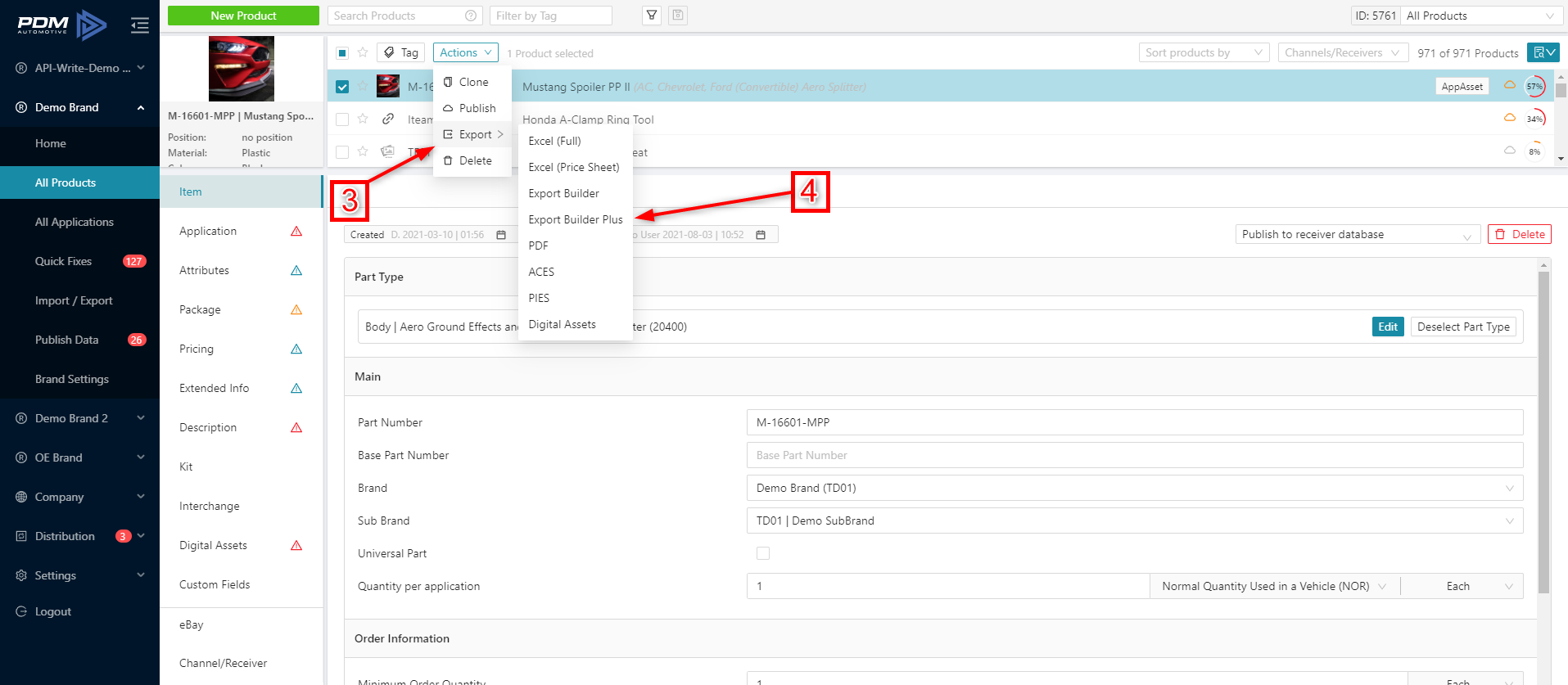 5. Select a template from the drop-down list and click
Export.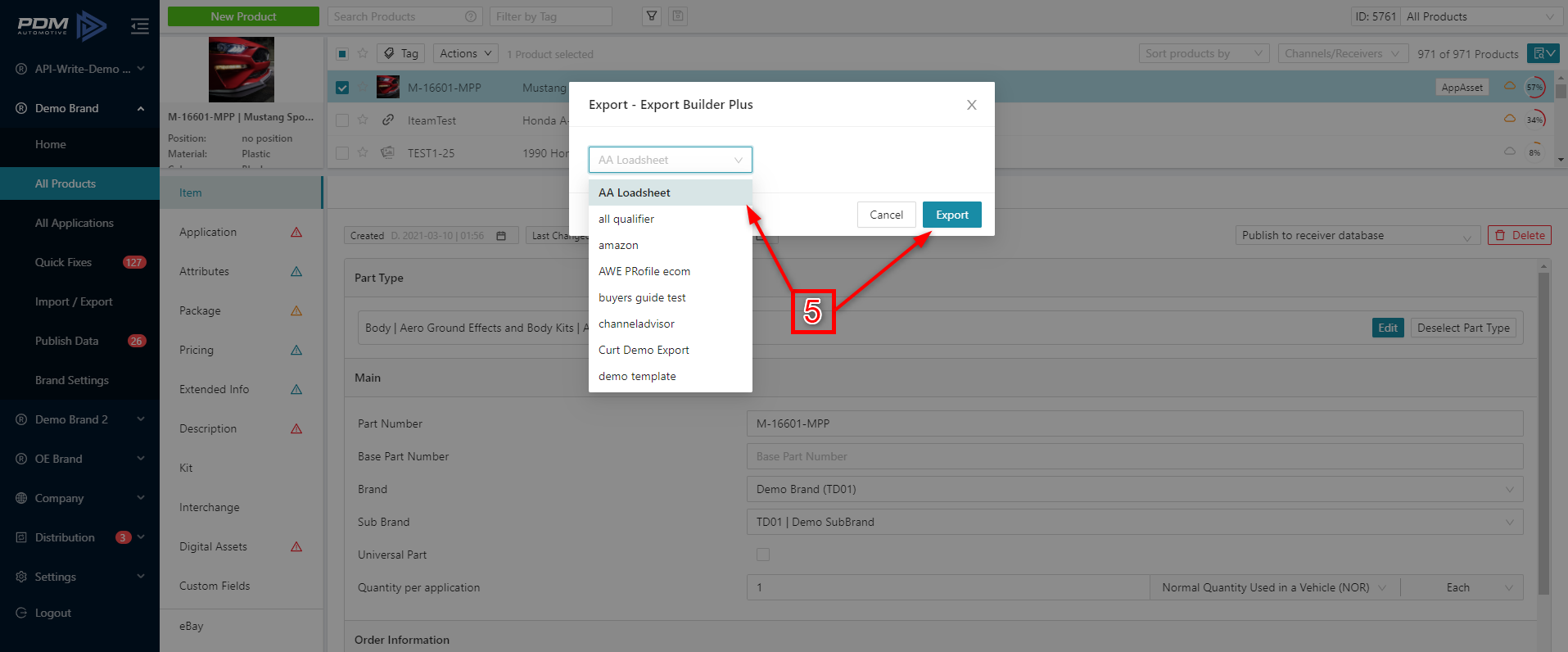 Related Articles

Export Builder Plus: Create, Delete and Copy Templates

Create and Delete Data Export Templates Create a Custom Template using Export Builder Plus Click on Add new template in the upper right. 2. Add new template will pop up. 3. Enter a template name and select an Export Type, then ...

Using Filters

Using Filters Grouping and filtering products can be helpful to edit in bulk and send filtered data to your customers. You can achieve filtered exports by: Filtering from your catalog Saving a filter and applying it In manual exports In automated ...

Export Builder Plus: Overview

Export Builder Plus Overview The Export Builder Plus connects the user's product data to any other system through a flexible template builder. Export Builder Plus has user-friendly options to create and edit data export templates based on customer ...

Data Distribution with PDM

Data Distribution with PDM To easily get your high-quality product data distributed, you have a variety of options: Channels (controlled by you) Set up exports to happen automatically on your preferred schedule to have data pushed daily, weekly, or ...

Import/Export Parent/Child Application Data

This article will focus on importing and exporting parent-child relationships in application data. For information on creating inheritance relationships for applications between products, see Inherit/Link application data. The parent/child ...