Managing User Roles and Permissions
Managing User Roles and Permissions

PDM allows Enterprise level accounts to create new users and edit roles and permissions of existing users.

User Overview



1. Navigate to Settings and select User.

2. You can Add or Edit an existing User.





Add User
1. Toggle switch for Administrator privileges. Administrators can read/write/modify data and manage other users.

2. Non-administrators need to be assigned one or more roles and data access permissions. Permissions for brands can be modified using the Hide/Read/Edit drop-down menu.

Edit User

Users cannot be deleted. If a user account is no longer required, click the
Set user to inactive
button.







User Roles

User Roles are predefined sets of access rules. The default role is Full Access.

Click the

Manage User Roles

button

on the

upper right-hand corner of the screen or

Edit

a user; then click the

Manage User Roles

button.



2.
In the new window, click Add New User Role.
3. Write a Role Name.

4. User permissions can be set to
Read, Edit
or
Hide,
for available segments (Item, Application, Attributes, etc..)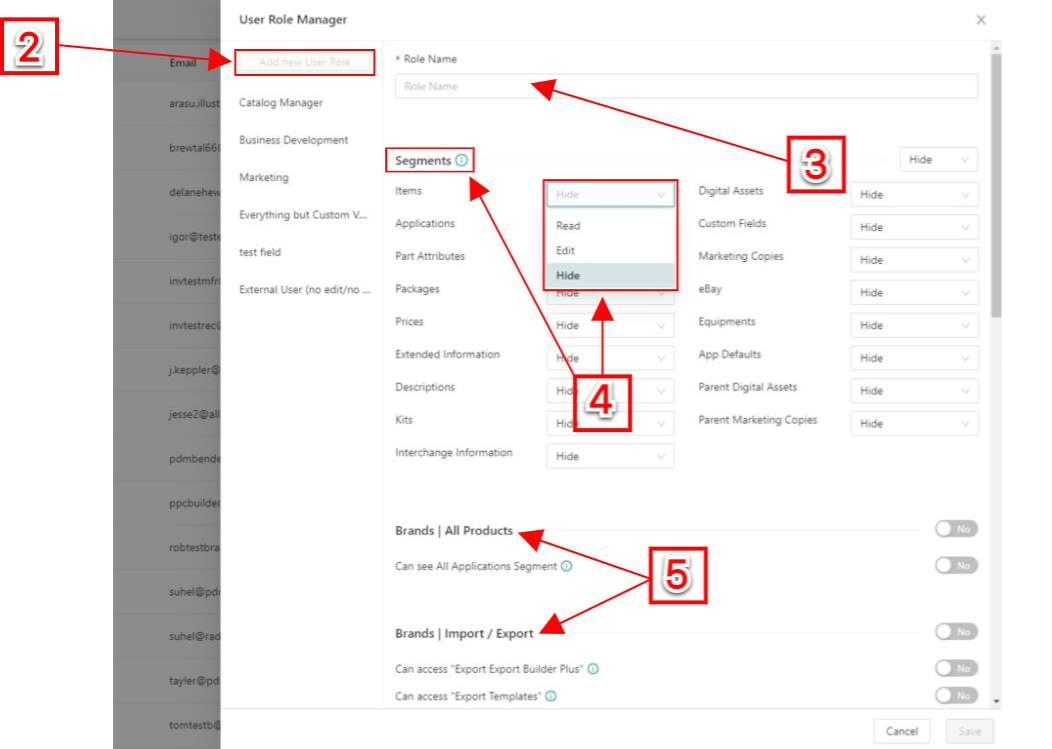 5. Toggle access to import/export functions, brands, publish data, company segment, settings, and distribution functions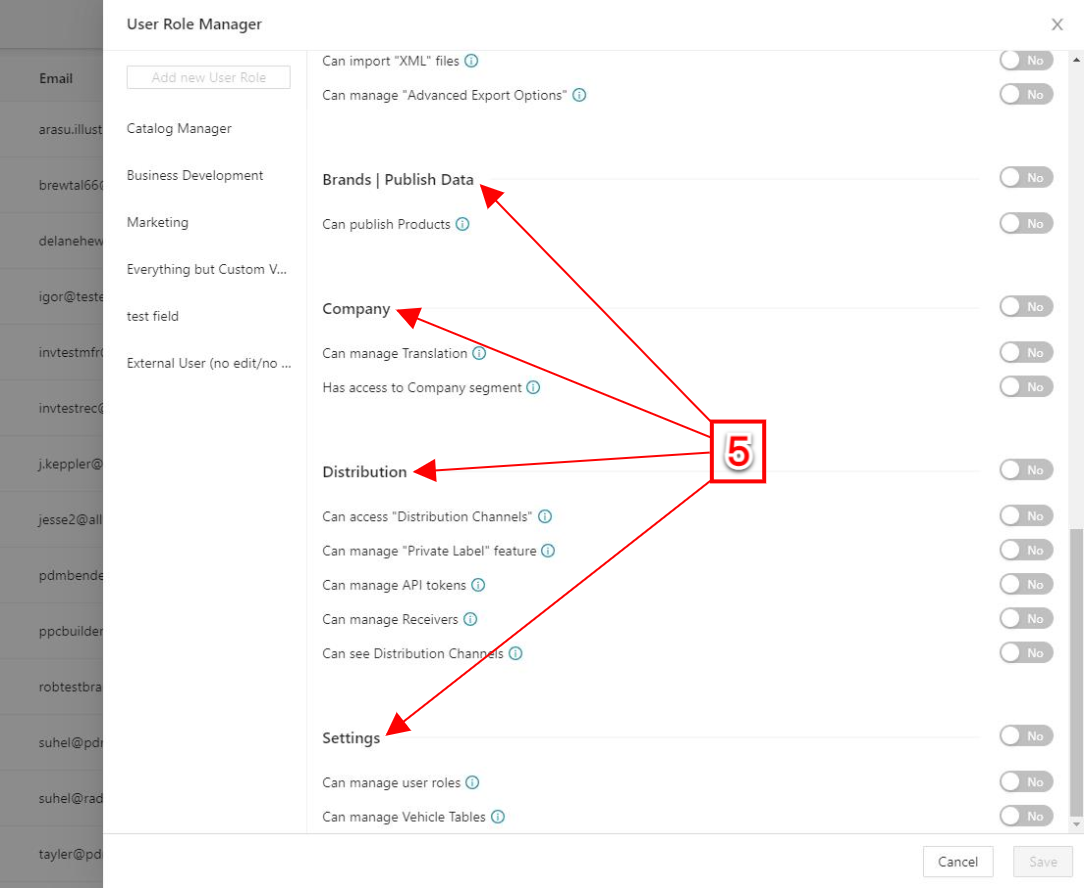 6
. To delete a user role, click on the
Delete
button on the bottom left-hand corner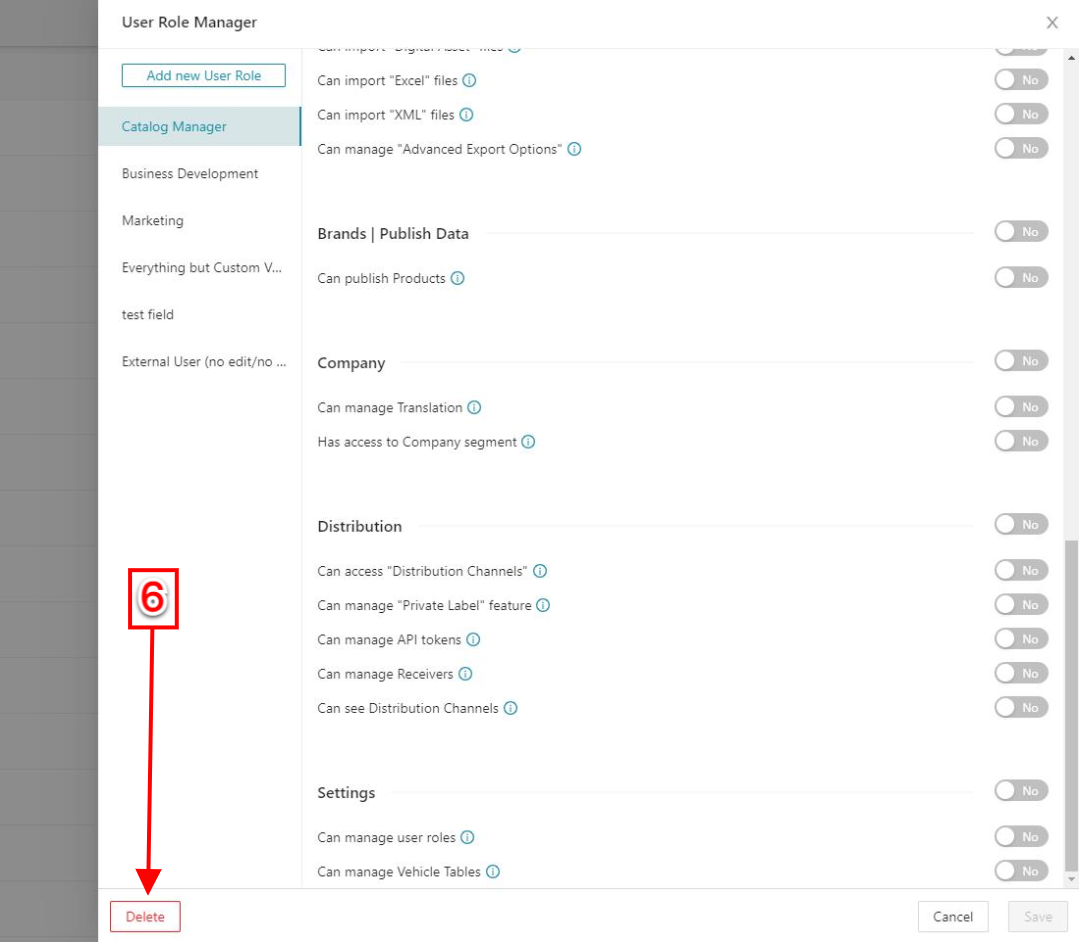 .

Related Articles

User Onboarding

Quick start guide The User Onboarding screen is the first that you see when Selecting a brand that has been recently added or has not been set up yet into your PDM account. You will find different options that will guide you through your very first ...

Users in Receiver Account

Users in Receiver Account There is no limitation on the number of users you can associate with a PDM Receiver Account. Keep in mind that users cannot be deleted, only set to Inactive. Create New User Click the Account Settings tab and select ...

Change Email Notifications Settings

Change Email Notifications Settings Email notifications are enabled for all the users by default. PDM sends several email notifications automatically. For instance: Weekly Status Reports Notifications when a receiver asks permission to receive data ...

Okta Single Sign On (SSO)

Okta users can sign in via a special login link (inquire) or through their Okta account. After logging in via Okta, users have the same capabilities (chat, support center, etc.) as a regular logged-in user. SSO login capabilities are optional as part ...

Export Builder Plus: Overview

Export Builder Plus Overview The Export Builder Plus connects the user's product data to any other system through a flexible template builder. Export Builder Plus has user-friendly options to create and edit data export templates based on customer ...